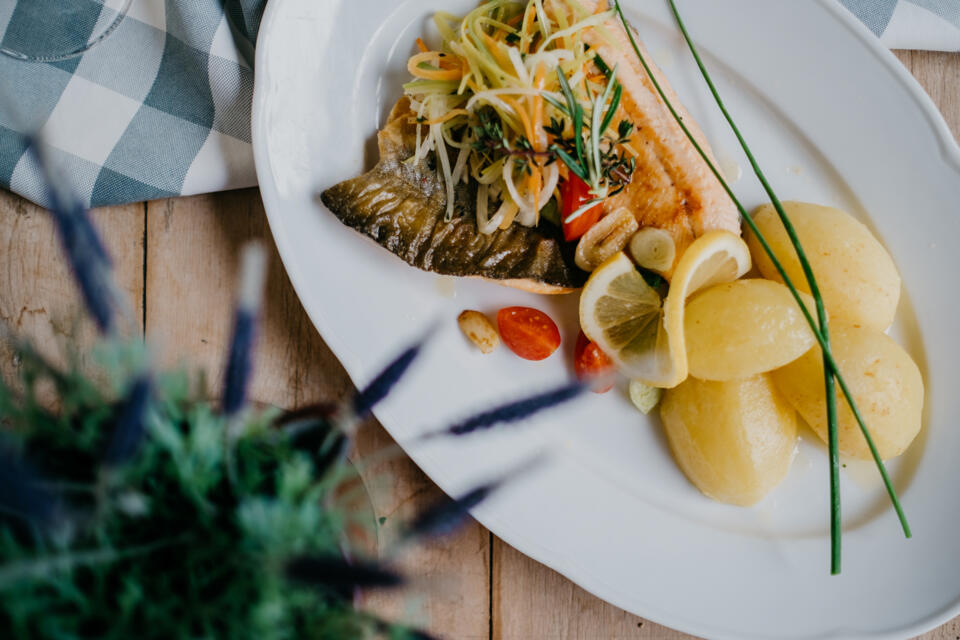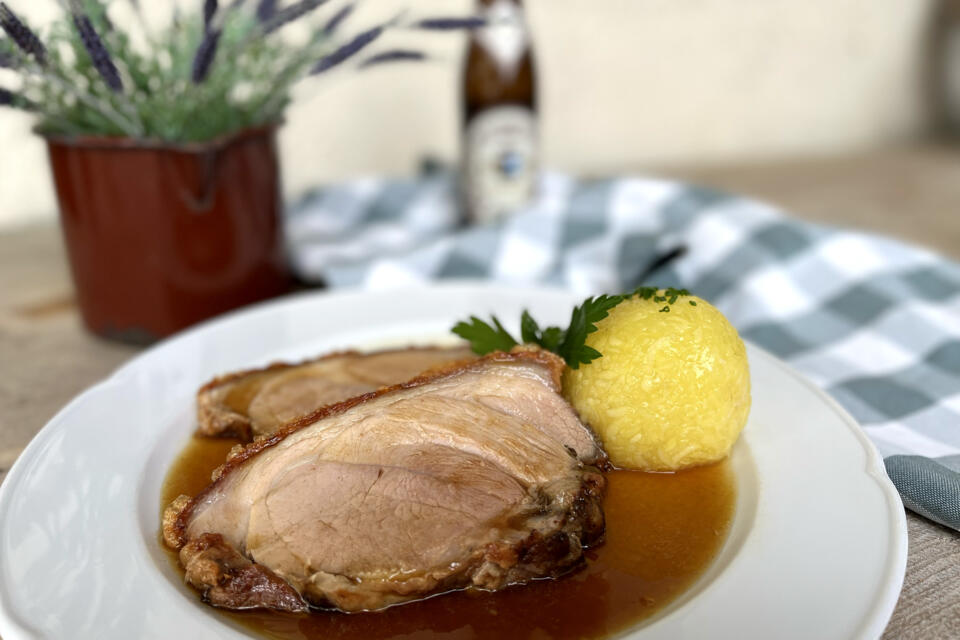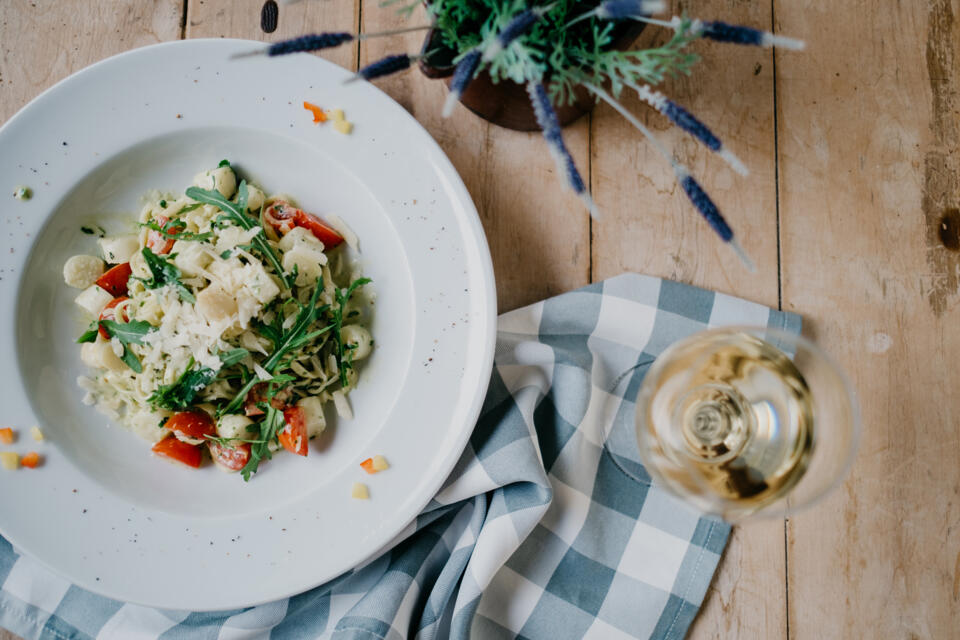 Bavarian delicacies of the season
Whether traditional delicacies from Bavaria, regional specialties or vegetarian delicacies: Let us surprise you with our delicious seasonal dishes. Our homemade cakes and pies are also in great demand. When purchasing, we work closely with trustworthy suppliers from the region. Because you can taste quality!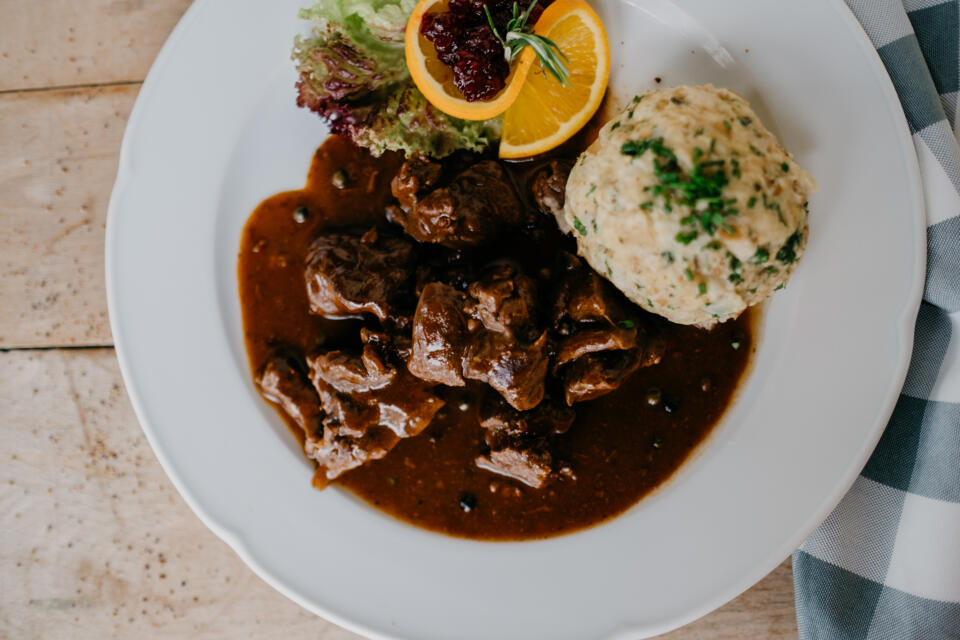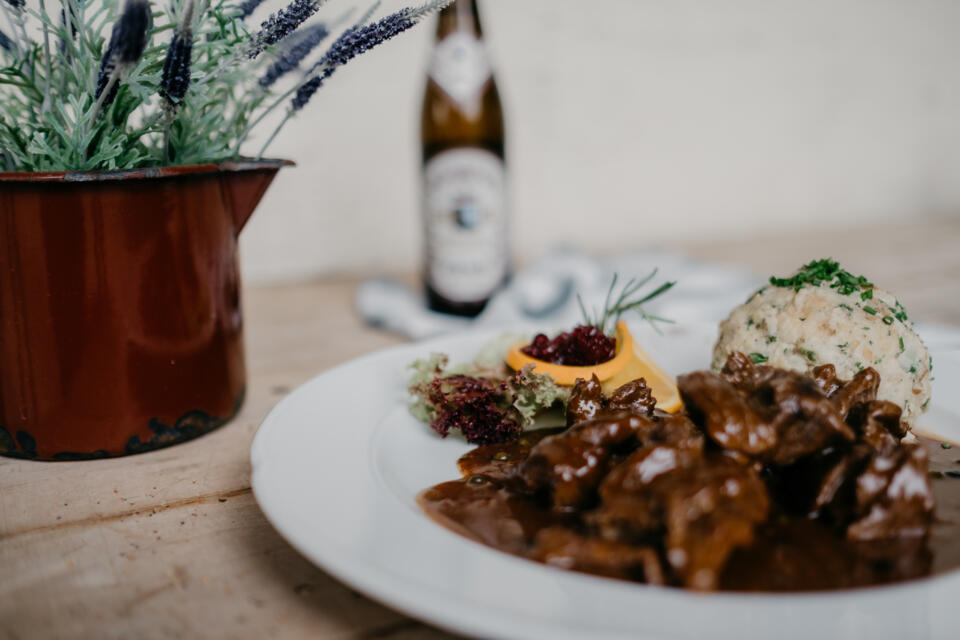 Game specialties
You must try our venison stew and other game specialties. In close cooperation with local hunters we only use fresh venison of selected quality. A real pleasure! The fresh beer specialties from the Hofbräuhaus Traunstein go best with it.
Table broth with noodles, vegetables and beef
6,50 €
Tafelspitz broth with herb pancakes
4,50 €
Salad plate with mushroom-zucchini ragout
12,00 €
Salad plate with turkey strips
14,20 €
Side salad
4,80 €
Wiener schnitzel of pork with french fries and salad
14,70 € / small 13,20 €
Mushroom schnitzel of pork with homemade spaetzle and salad
15,50 € / small 14,00 €
Boiled beef in horseradish sauce with steamed potatoes and vegetables
17,50 € / small 16,00 €
Allgäu cheese spaetzle with fried onions and salad
12,50 € / small 11,00 €
Children's escalope with french fries and small salad
7,50 €
2 potato pancakes with applesauce
4,50 €
Bread dumpling with sauce
4,00 €
Spaetzle with cream sauce
4,00 €
French fries with ketchup
4,00 €
2 pairs of Wiener sausages (4,6) with bread roll
8,00 €
2 pairs of wool sausages with potato salad
9,50 €
Sausage salad with bread roll
9,00 €
Swiss sausage salad with bread roll
10,20 €
Ham sandwich
6,90 €
Cheese bread
6,90 €
Apple, orange, currant, rhubarb or elderflower spritzer
0,5 l - 4,00 €
Apple, orange, currant nectar
0,25 l - 2,70 €
Table water
0,5 l - 3,30 €
Siegsdorfer Petrus spring water
0,25 l - 2,70 €
Siegsdorfer Petrus Spring water
0,75 l - 4,80 €
Lemonade
0,5 l - 3,70 €
Spezi
0,5 l - 3,70 €
Fanta or Coca Cola
0,25 l - 2,70 €
Tap water
0,5 l - 1,10 €
Beer from Hofbräuhaus Traunstein
Fürstenquell Export light from the barrel
0,5 l - 4,00 €
Fürstenquell Export light from the barrel
0,25 l - 2,90 €
Old Bavarian dark
0,5 l - 4,00 €
Hochberg Weisse on tap
0,5 l - 4,10 €
Hochberg Weisse on tap
0,33 l - 3,40 €
Light Weisse or non-alcoholic Weisse
0,5 l - 4,10 €
Zwickl or non-alcoholic Zwickl
0,33 l - 3,70 €
Fürstenpilsener
0,33 l - 3,70 €
Non-alcoholic beer
0,5 l - 4,00 €
Radler (Beer and Lemonade)
0,5 l - 4,00 €
Wine spritzer
0,5 l - 5,00 €